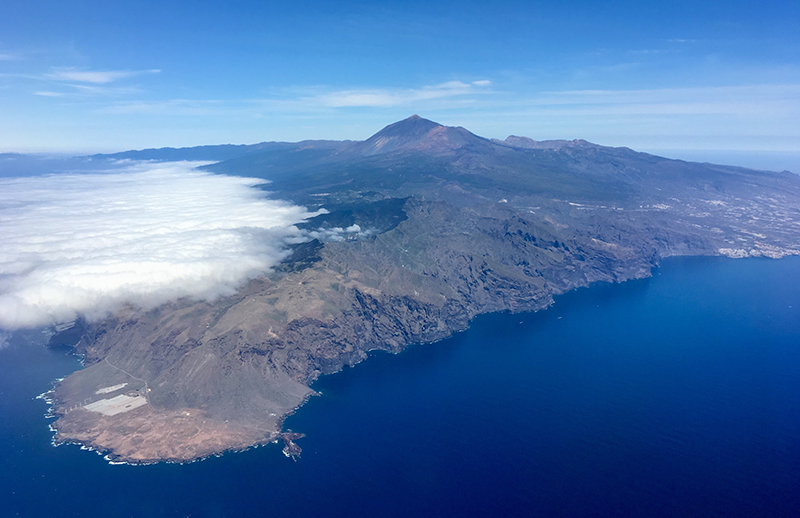 04 Jun

Smart Island: Innovation that Ensures Sustainable Development
"Turning Tenerife into a Smart Island based on an ICT infrastructure, ensures the quality of life of its citizens and makes the area accommodating, habitable, accessible, and sustainable"
The United Nation's 2030 Agenda for Sustainable Development establishes 17 Sustainable Development Goals aimed at putting an end to extreme poverty, fighting inequality and injustice, and confronting climate change.
On this last point, it's obvious that we should talk about the global impact of the tourism sector. To talk about tourism is to talk about one of the driving forces of worldwide economic growth.
Tourism currently provides one out of every eleven jobs in the world. In the Canary Islands, it represents over 34% of the Gross Domestic Product. And in Tenerife, the hospitality and service sectors contribute more than 60% of the GDP to the island's economy.
It is essential to point out that Tenerife is the largest, most mountainous, and most biologically diverse island in the Canary Islands. Forty-eight percent (48%) of its surface is occupied by 43 natural protected areas. And, with over 800 species of fauna and flora that are unique in all the world, Tenerife is an extraordinary place.
Sustainable Tourism
As a destination, Tenerife is committed to sustainable development and respect for the environment. The Institute of Technology and Renewable Energies (ITER), located in the town of Granadilla de Abona, is in charge of wind farms, photovoltaic facilities, and bioclimatic housing.
There are also numerous businesses that are committed to "erasing" the environmental impact of tourism through reforestation initiatives, programs aimed at recovering different spaces, and several environmental projects that offer visitors a chance to collaborate in efforts to preserve the marine environment, recover our forests, and repopulate native species.
On the other hand, Tenerife's tourist services are characterized by an exceptional concern for the environment, making the island the leading destination in Europe as far as the number of hotels that have been granted international environmental certification by Travelife.
But are all these actions enough? What role does innovation play in helping to meet the goals established in the 2030 Agenda? How can we move forward and contribute to more sustainable development?
In the tourism sector, developing R&D+i technology is critical.
Why a smart island?
Being part of the Smart Tourist Destination Network (DTI for its initials in Spanish)​ means being a well-established innovative destination with cutting-edge technological infrastructure that ensures the sustainable development of the tourist region, is accessible to all, facilitates visitors' interactions and integration with the surroundings, and enhances the quality of both visitors' experiences and the lives of local residents.
Although Tenerife already has two municipalities that have been declared DTI, Arona and Puerto de la Cruz, its goal is to become a smart island.

Turning Tenerife into a Smart Island, in other words, into an innovative tourist destination based on an ICT infrastructure that ensures the quality of life of its citizens and makes the area accommodating, habitable, accessible, and sustainable.
Therefore, the projects promoted in a Smart Island must focus on ensuring accessible and sustainable development, such as, for example:
Energy efficiency and the sustainable use of resources.

Automated services that encourage respect and care for the area around us.

Sustainable and accessible mobility for all.

Automating digital signaling, accessibility, barrier removal, and mobility management services, geolocalization; and, of course, improving and promoting public and alternative transport services, always with the support of ICT solutions.  

Committing to improving the quality of public services.

This solution can help by reducing CO2 emissions and environmental impact.

Entrepreneurship as a source of wealth generation.

Focusing on basic services such as health, tourism, hospitality, mobility, safety, and, of course, energy efficiency.

Increasing safety.

In a technological society with free access and participation in all sorts of information, we are increasingly exposed and need maximum protection.
To reach the smart island objective, Tenerife offers infinite opportunities for technological development in the tourism sector.
Some of these opportunities are aimed at developing R&D+i technology that includes innovations and developments the astrotourism and scientific tourism sectors, developing tools for managing and marketing products, systems to save energy and use it more efficiently, technological platforms, etc.
By promoting innovation in the tourism sector and, consequently, in the destination​, through implementing and developing ICTs, it is possible to create highly competitive distinctive services and make the destination more sustainable and accessible.
To learn more about the advantages Tenerife has to offer to companies, download our guide in English: "Tenerife: A Place to BE. 5 + 1 Reasons to Work in Tenerife."